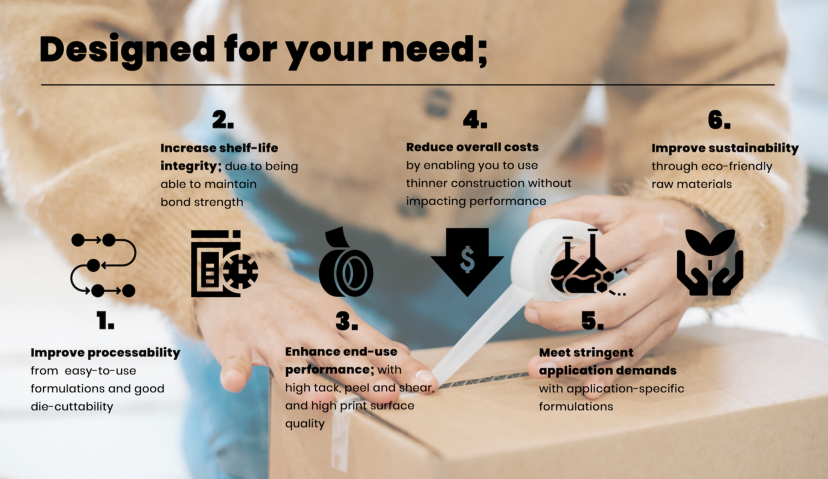 Hot melt adhesives provide efficient and reliable bonding for specialty tapes used for fastening, mounting, and sealing.
Whether you are bonding similar or completely different substrates; with Kimyapsan adhesives, tapes provide the strength, conformability, adhesion you need.
Our extensive expertise in the market allows us to formulate a variety of pressure-sensitive adhesive technologies that easily meet the demands of our users by manufacturing better tapes, labels, and films.
***Leading Tape Applications;***
-Medical adhesive tapes
-Automotive tape adhesives
-Construction tape adhesives
-Hot melt pressure-sensitive technology
Industrial Tape Market
The industrial tape market is the fastest growing in the bigger market of adhesives; industrial tapes are frequently used in automotive, packaging, medical and construction practices.
As new tapes are developed to keep up with evolving customer needs, it's important to understand the drivers of the industrial tape market growth.
Industrial tapes offer high-strength bonding solutions with the capacity to endure temperature changes and toxic chemicals, making them the right fit for even the most demanding applications and harshest conditions.
***Environmental Friendliness***
Developments in environment-friendly products continue to scale up in all markets. Thanks to their ease of use, industrial tapes respond to these concerns, improving operational efficiency by saving companies time, money, and resources.
***Designed for your need;***
-Improved processability with easy-to-use formulations and upgraded cuttability
-Increased shelf-life with maintaining bond strength
-Enhanced end-user performance with high adhesion, peel, and shear quality
-Reduced overall costs by enabling you to use thinner construction without impacting performance
-Meeting stringent application demands with application-specific formulations
-Improved sustainability through eco-friendly raw materials